COVID-19 and our commitment to YOU
On Friday, March 20th, Governor Pritzker issued Executive Order 2020-10 requiring all Illinoisans to stay in their homes to prevent the further spread of COVID-19. We've made the very difficult decision to close Sunday thru Wednesday during the week effective IMMEDIATELY. Wolfden will be open Thursday thru Saturday with limited hours for pick-up or to-go orders ONLY. These hours are subject to change at any time. Check back often and follow us on Facebook for updates.
•For pick-up or curbside delivery, please call 847-610-5117
•You can walk in for pick-up or to-go orders.
•Please bring a reusable bag if you intend on getting lots of stuff – our bags are running low.
•Next day deliveries are now available.
•PLEASE DO NOT place you order through a Facebook post, in a message to us or our staff, or an email. We are only taking pickup orders through the phone or online at the link above. If it's busy, please call right back. We only have one phone line and a small staff.
• We will not refill growlers due to sanitary reasons. Only new growlers from us will be filled. Our prices have already been discounted to 'refill prices' to reflect this.
Thank you for your continued support of our small business during this difficult situation! 
For the strength of the Pack is the Wolf, and the strength of the Wolf is the Pack.
Wolfden Brewing Company is a craft beer brewery and taproom in Bloomingdale, IL (western suburb of Chicago), developed by Krys & Katie Wolf. We serve small food plates, wine, specialty cocktails and most importantly – fresh beer! Our 1/4 acre beer garden, large backyard deck, and front patio is DOG FRIENDLY! We are also a green brewery and strive to create as little waste as possible. You won't find any paper products here. Check our events page and follow us on Facebook and Instagram to see what's happening around the brewery. See you soon! Cheers!
$2 off Crowlers // $4 off growlers
Events
There is always something going on at The Den! Bring your favorite pooch to lounge on our patio, listen to some live music, or grab gourmet eats from the hottest food trucks. Check our Facebook page for the most up-to-date schedule of fun stuff!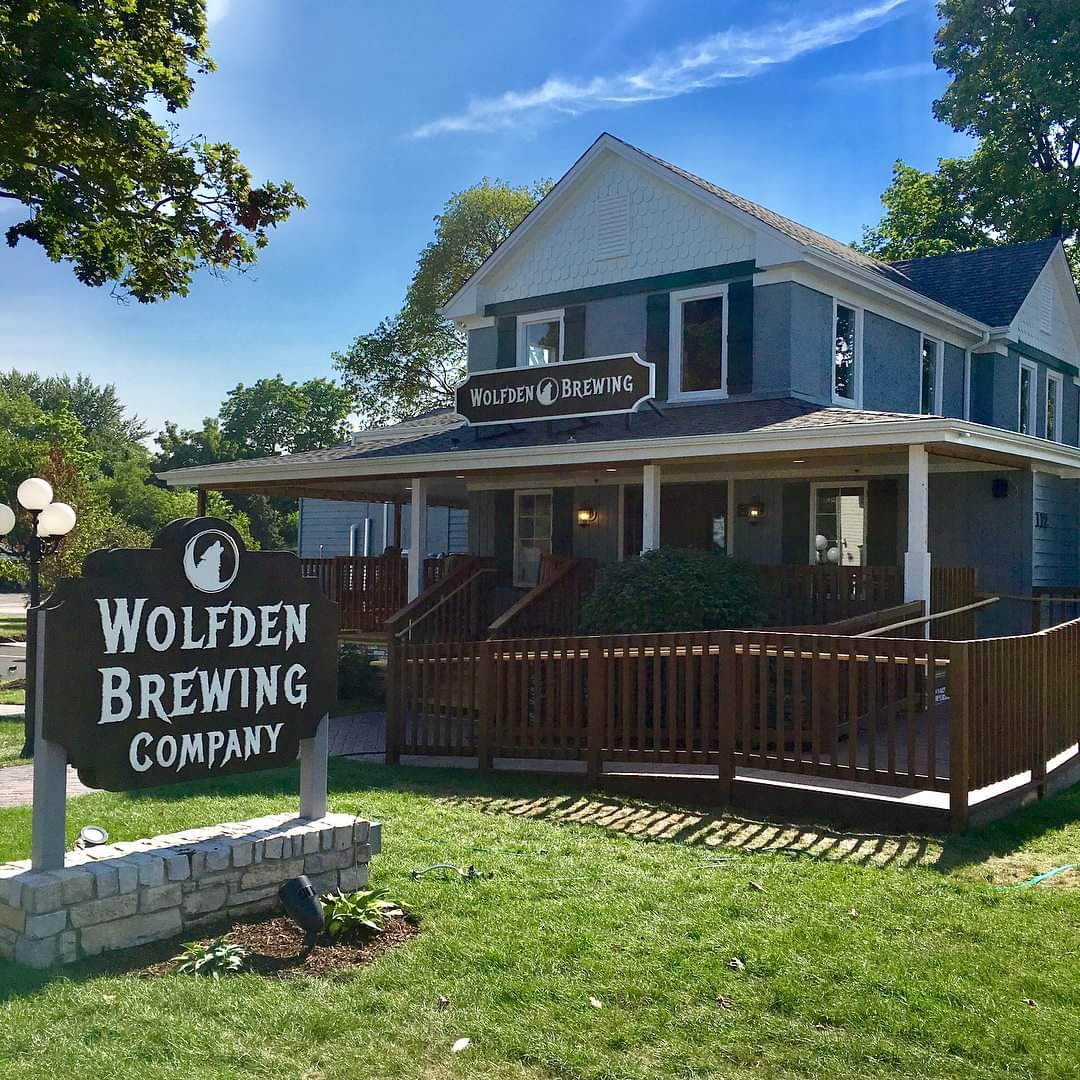 We've always had a passion for the creative. Our favorite times have centered around beer. The best creative outlet for us was to craft delicious beer and create a cozy and welcoming environment in which to enjoy it.
Katie Wolf comes from a long background of fashion and jewelry design. Krystov Wolf has experience in sculpture, technology, and home brewing. Together, with the help of their home building family and the craft beer community, designed and built Wolfden Brewing Company. After 3 intense years of planning and construction, Wolfden opened on August 11th, 2018.
While we've made massive improvements, our historic building was built in 1851. With such a long history, it's not hard to believe that we're touted as the most haunted brewery in Illinois. Our resident spirit, Jack, is known for causing mischief. People always ask us what happens… WELL…come visit us and you can experience it for yourself. Ask any one of our bartenders about their experiences!
THURSday – SATURday
2 PM – 7 PM
Mail
info@wolfdenbrewing.com